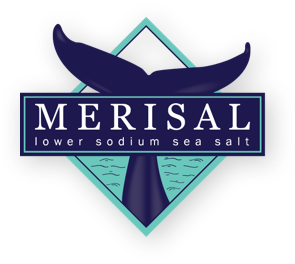 Our Mission

is to create a healthier, lower sodium sea salt that makes your food taste better with a clean label that simply states "sea salt."

Harvested directly from the ocean sea water

Merisal lower sodium sea salts are certified kosher

Contains trace levels of magnesium and calcium
Retail Products
For All Your Cooking Needs
We offer our Merisal 57 Sea Salt in a 4 oz shaker bottle for your culinary needs. Replace your table salt in a 1:1 ration with Merisal 57 in whatever application you use: seasonings; salt & pepper; breadings.
Product Details
Merisal Sea Salt 57
4 oz Shaker
$5.99
About Merisal
A Healthier Alternative
We use only the best sources harvested directly from the ocean sea water, allowing the label to simply state "sea salt."
With trace minerals to provide a clean tasting, lower sodium sea salt, we set the industry standard.
Applications
Clean Tasting Lower Sodium for All Your Needs
Our Benefits
We Set the Industry Standard
US Food Grade
American Heart Association Recommended
Facility Certifications
NON GMO Project Certified
HACCP Certified
SQF Certified
Certified Kosher
Our Vision
Be The Leader in Lower Sodium Sea Salt
Our vision is to be the world's leader in lower sodium sea salt by providing the best and healthiest alternative to salt.